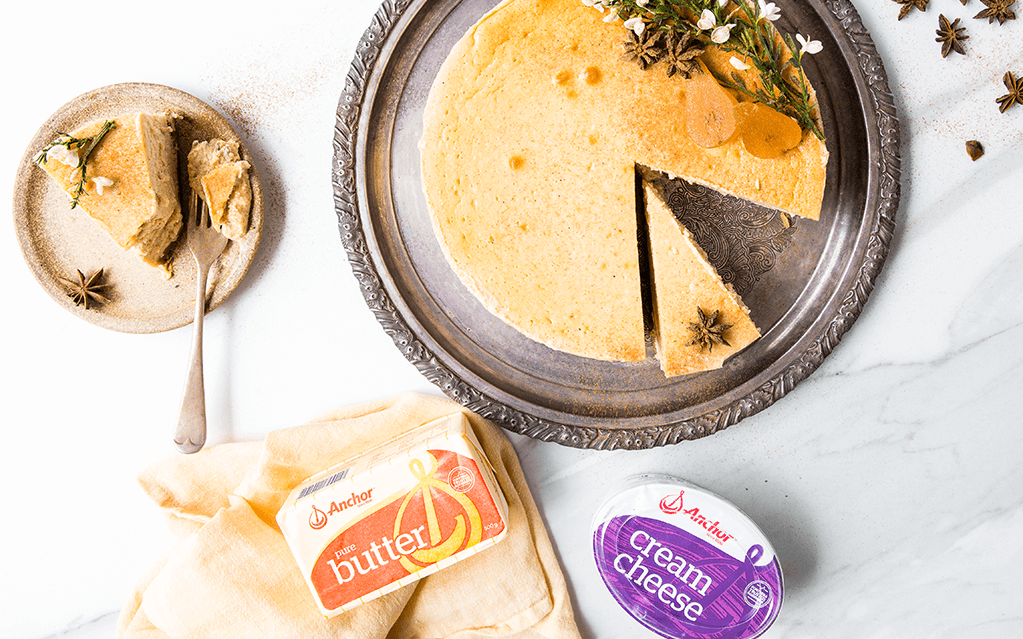 Method
Preheat oven to 170C. Grease a 22cm springform baking tin. Line the bottom with baking paper, grease the sides with melted butter and cover the outside of the pan with two layers of tinfoil to create a waterproof outer.
For the crust, blitz gingernuts in a food processor until finely crushed. Add melted butter and pulse until combined. Press onto the bottom of the lined tin and bake crust for 15 minutes until brown. Set aside to cool while you make the filling.
For the filling add cream cheese, sour cream, sugar, flour, vanilla, nutmeg and cinnamon to the bowl of an electric mixer and beat until pale, 1 minute or so. Add brandy or whiskey and white chocolate and beat a little longer. Add eggs and egg yolks, beating on low speed until just combined. You don't want the mixture too fluffy or it will sink once cooked.
Pour into pan. Place pan in a shallow roasting dish and pour boiling water to come halfway up the sides then and carefully transfer to oven. Bake for 1 hour, 20 minutes until top is golden brown, edges are set, and the centre jiggles slightly. Lift cheesecake from water bath, remove foil and refrigerate for at least 6 hours to set.
To serve, have a large plate ready. Run a thin knife around the side of the cheesecake, then slowly release the springform outer. Use a large knife to loosen the cheesecake from the metal base. Slide the cheesecake carefully onto the serving plate.
Serve with extra cinnamon, gingernut crumbs and edible foliage if you wish.