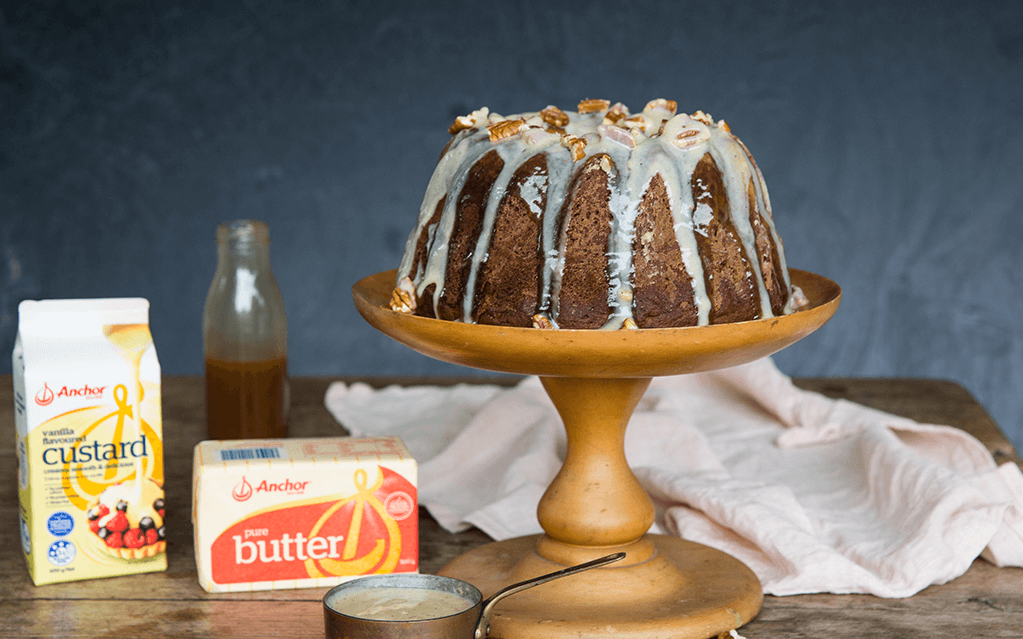 Method
Preheat oven to 180C.
For sticky toffee bundt cake, grease a two litre bundt tin with butter and a dusting of flour.
Place the dates in a large pan with water and baking soda. Bring to boil for 5 minutes (it'll froth up a bit with baking soda), then set aside to cool slightly.
Beat the butter and brown sugar with a pinch of salt until smooth. Add eggs one at a time beating well after each addition.
Beat in half of the flour and baking powder, then half of the date mixture with the water. Add in the other half of the flour once the first batch is combined and finish with the remainder of the dates.
Stir through ginger then pour the mixture into the prepared tin. Bake for 50 minutes, or until a skewer comes out clean.
Remove from oven and allow to cool slightly before turning onto a cooling rack.
Meanwhile, to make the toffee sauce, melt butter in a saucepan over a medium heat. Add the brown sugar and cream and stir with a whisk occasionally until the sauce gets sticky, about 10 minutes. Poke 10-12 holes in the top of the cake and pour ⅓ sauce over the top.
For the eggnog custard, mix together, vanilla custard, nutmeg, cinnamon and whiskey - warm gently in a small saucepan.
To serve, cut a wedge of the pudding, pour over the warm toffee sauce and eggnog custard.